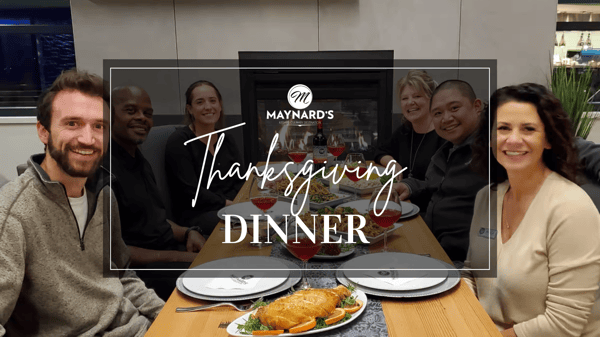 Thanksgiving at Maynard's!
***FOR RESERVATIONS PLEASE CLICK THE LINK BELOW OR THE "RESY RESERVATIONS" BUTTON ON OUR WEBSITE HEADER TO RSVP FOR THANKSGIVING***

It's that time of year again!

Time to gather around the table with your loved ones and enjoy a delicious Thanksgiving feast!

Maynard's Restaurant is serving up Thanksgiving dinner plates with 2lb smoked turkey legs or breasts, stuffing, mushroom risotto, mashed potatoes, and cranberry sauce. All of our food is made fresh in house and we're open from 11am - 6pm. 

Make your reservation today and join us for a Thanksgiving you won't forget!

Dining-in:

Reservations are mandatory and must be made online via RESY (link below and on our website's header). Any phone calls or email inquiries regarding reservations will be advised to make them online. 

Free cancellation before Saturday, Nov 19 at 3:00 PM. After that, canceling your reservation will trigger a fee of $5.00 per guest.

Thanksgiving Menu can be found here: https://www.maynardsrestaurant.com/embeds/qnjgkpba

or on the Thanksgiving Pre-order page. 

Thanksgiving Pre-Orders:

Pre-orders can be made online on our website's homepage. 

Pre-orders will end on November 21st at 3 PM. 

Guests can select a time when ordering to pick up their meals between 11 AM-7 PM on Thanksgiving Day. 

CLICK HERE FOR RESERVATIONS